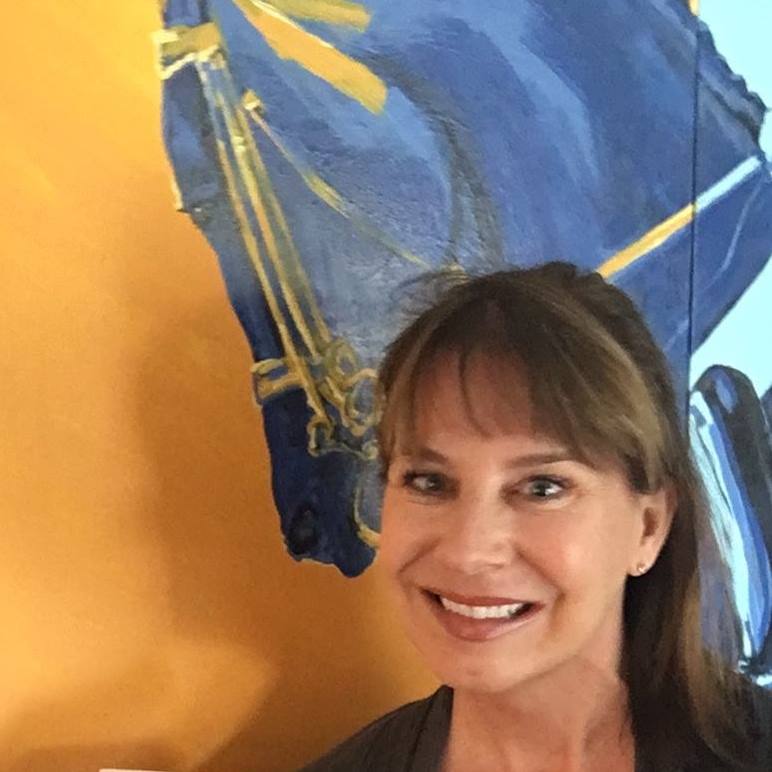 ARTIST'S  STATEMENT
From my studio in southern California, my contemporary artwork amplifies the essence of the subjects I celebrate. I like to reveal the ideal, and the energy of change, transitions and transformations by limiting my palette to bold colors or subtle choices to create contemporary designs.
I enjoy creating simple landscapes and figurative works but the equestrian lifestyle is my favorite subject. I target the elegance and mood of the individual animal, or the empathy and transformation the rider partnership creates, using bold composition & mixed media in my commissions, original portrait paintings and prints.
People have always projected their dreams for themselves on the iconic horse: strength, natural beauty and athleticism. I celebrate that and use color to magnify the soul and emotion of the beast or experience between horse and human for all to aspire to, and appreciate — rider or not.
The positive energy that communication creates within horse and rider fascinates me. My goal is to help people enjoy an expression of the simple natural grace, power and talent of each unique beast and their primitive affinity for their human partner. Instinctive intuition from centuries of mutual life and death reliance runs deep in their veins and souls.
Life is a ride, and I don't think it is an ideal ride until you canter. It's a place in your mind, heart and muscle memory. It is that familiar feeling in space and time where you find your pace — a forward momentum really swings in a balanced, powerful stride.  That sweet spot where you make great progress in miles and adventure. I'll always look to work at that rewarding pace that uses everything, all my unique strengths, brilliance and rhythm fully to pass over obstacles and reach higher levels.
This ride that is the equestrian experience, is a powerful metaphor in my life. I spotlight the unique personality of the beast and the ancient and evolved teamwork of rider and horse — mind guiding intuition — conscious guiding subconscious. This bond creates a moving intimate trust encouraging each partner to greet the task at hand boldly and safely for each other. The rider's skill in the relationship allows the thrill, and they accomplish more as one.
The positive energy of the mutually dependent partnership that is horse and rider, arises from the everyday challenges and communication that build honesty in teamwork, ethics, and loyalty, and create a playfulness and a required mindfulness for safety.  I love to express this unique relationship that sets the equestrian life apart.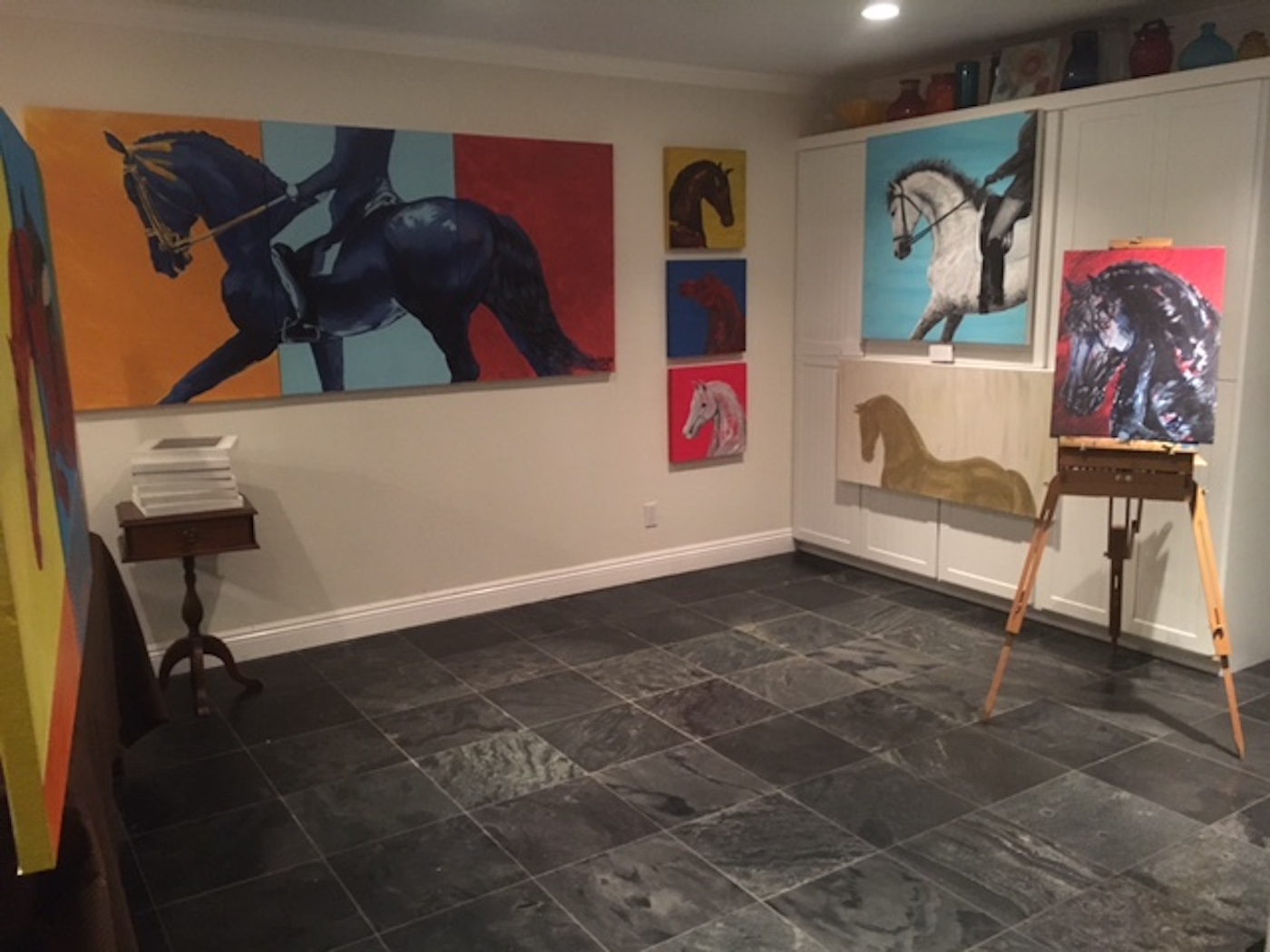 BIO
I grew up in the midwest, an animal lover, drawing pets and horses, then riding and baling hay in the summers at a friend's idyllic Arabian horse farm. I received my Bachelor of Arts after switching from fine art to journalism school advertising sequence to produce commercial art that blended my love of art and writing. After marrying, my career in sales and marketing evolved into hiring a wide variety of artists for hundreds of diverse campaigns. Also, I finally found a horse of my own whom I enjoyed and trained up over 7 years from green to bombproof and eventing.
I moved to California for work and then raised 3 children,volunteered full time for public school fundraising and art festivals and gained an MBA in business. Evermore evolving, I provided digital marketing arts services where I again had the opportunity to liaison with, and be inspired by hundreds of amazing artists every year. I now work to express in art, the singular grit, elegance, excitement and excellence that is the extremely fun equestrian lifestyle.